California's oak woodlands cover 10 percent of the state and are its most biologically diverse broad habitat. It also is as an important location for agricultural and other economic enterprises. With 80 percent in private ownership, continued sustainability of resources is in the hands of private individuals.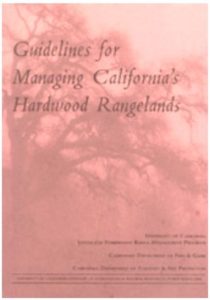 This webinar series and its sister publication, Guidelines for Managing California's Hardwood Rangelands, were designed to create an awareness of the importance of managing oak woodlands and to present alternative management strategies for landowners to consider.
Anyone involved in research, education, management and conservation of oak woodland ecosystems, including landowners and managers, consulting range managers and registered professional foresters, community and conservation groups, land trusts and policy makers, will find this information valuable.
Listed here are the archived presentations of the four Managing Oak Woodlands webinars. Click on the segment that is most interesting to you to find a powerpoint show and lecture given by an oak management expert.
The webinar series was completed in 2011.
Overview of Oak Rangelands – Webinar I
Importance of management, goals of webinar; Woodland overview; Wildlife and Biodiversity; Setting Goals, Resource Assessment.
Oak Rangeland Management – Webinar II
Livestock and Grazing Management; Recreational Income; Erosion Control and water quality; Forest Products.
Sustaining Oak Rangelands – Webinar III
Regeneration and restoration; Silviculture and stand management; Fire; Open Space Values.
Developing Plans – Webinar IV
General questions; Finding a consultant; Sources of cost-share assistance.