Recently added:
---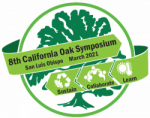 Announcing 8th California Oak Symposium: Sustaining Oak Woodlands Under Current and Future Conditions
Update 12/5/2020: The 8th California Oak Symposium has been postponed due to the Coronavirus (COVID-19) pandemic. While we had hoped to be able to host the event on schedule, the health and safety of everyone involved is paramount and it was determined that postponing until 2022 was the best option. We cannot wait to see everyone, March 21-24, 2022!
March 21-24, 2022
San Luis Obispo, California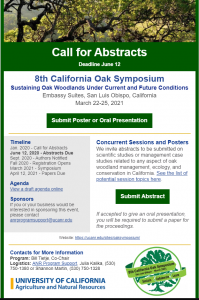 General Overview: Beginning in 1979, there have been a series of symposia held every 5 to 7 years addressing the state of our knowledge about science, policy and management factors affecting California's oak resource. California's oak woodlands cover 10 percent of the state, and in addition, are a key ecological component of conifer forests. Oak woodlands are the most biologically diverse broad habitat in the state, making conservation of their ecosystem values an important policy and management priority. The meeting will bring together northern and southern California oak scientists, managers, policy makers and interest groups, and provide opportunities for field trips to various oak habitats.
Audience:
The conference is intended for anyone involved in research, education, management, and conservation of California's oak woodlands. This includes foresters, range managers, tribes, arborists, landowners, community groups, land trusts and policy makers.
Submit an Abstract, find more information about the Symposium, or join the mail list here.
---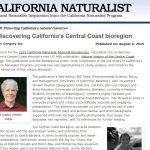 Recently published Natural History of the Central Coast Bioregion was reviewed in the California Naturalist newsletter. Read the review here.