Unlike much of the land at higher elevations which is publicly owned, 80% of the oak woodlands in California are privately held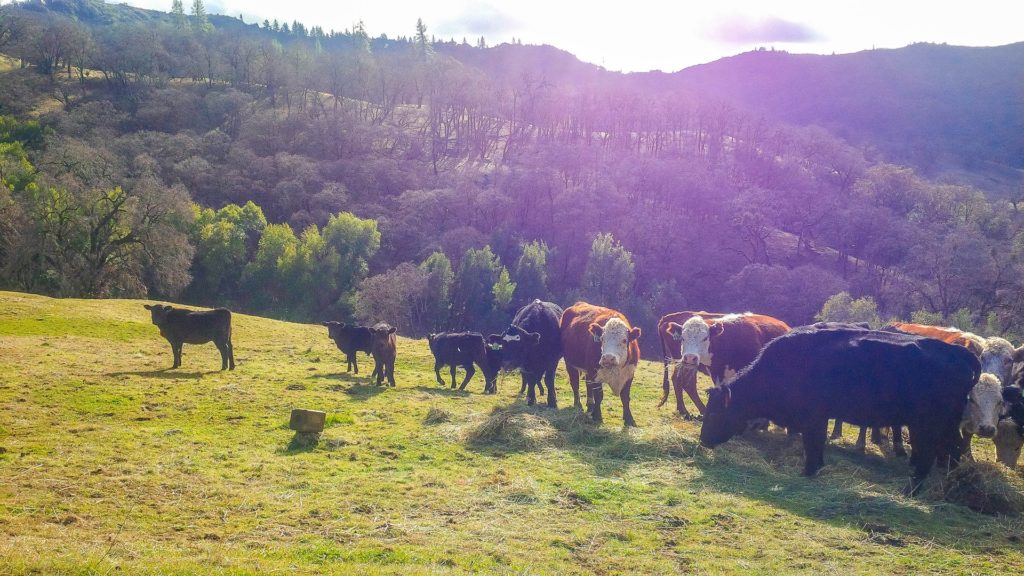 The majority is used for grazing, primarily for beef cattle. It is therefore essential that these property owners understand the importance of oak woodland conservation and be made aware of the latest management recommendations. Since its inception, UC's oak conservation programs have worked closely with ranchers and the professional organizations that represent them, including the California Cattlemen's Association, the Woolgrowers, and the Farm Bureau. We have also been actively involved in the California Rangeland Conservation Coalition. Our experience is that the vast majority of rangeland owners are good stewards of the land and want to ensure that their properties are passed along to future generations with their conservation values intact. Maintaining large acreages as ranches provides myriad public benefits in terms of high quality water, critical wildlife habitat, and iconic landscapes at little or no cost to the general public.
Alternative Cow-Calf Grazing Concepts: A Rancher's Perspective
There are many ways that cows can be run on the range. Many ranchers spread their cows out across the entire ranch, letting them graze where they want through the year and gathering only when it's time to brand and vaccinate or at weaning, however several alternatives exist. Read more here
Managed grazing and seedling shelters enhance oak regeneration on rangelands
Avoid grazing in summer when oak seedlings are the only green forage available (it is best to graze in winter and fall when there is plenty of green grass)
Graze at a low to moderate stocking density
Plant oaks more than 0.5 miles from livestock water and on slopes more than 20%
Plant oaks away from known feeding and resting sites and trail corridors
Place livestock attractants (salt, supplements, rubbing posts, etc) as far away from oak seedlings as possible
Fence fields with oak seedlings or protect individual seedlings using tree shelters until they are at least 6.5 feet tall
As an alternative to planting oaks, protect existing volunteer oak seedlings like you would for planted seedlings
Click here for more information about the grazing guidelines listed above.
Tree shelters and weed control enhance growth and survival of
natural blue oak seedlings
Protecting naturally occurring seedlings: "In our experience, blue oak seedlings in the open covered with tree shelters generally grow into saplings in less than a decade. Compared with artificial regeneration techniques, this natural regeneration strategy is more cost efficient and therefore more likely to be widely adopted by California landowners. We estimate that this approach would cost less than half of what it costs to plant seedlings. We feel that using tree shelters and weed control to enhance early growth and survival of naturally occurring blue oak seedlings could significantly improve the regeneration of this important woodland species and promote its long-term conservation."
Find more information about planting oaks at Oak Regeneration and Restoration
The History of UC Rangeland Extension, Research, and Teaching
This publication documents significant milestones in rangeland extension, research, and teaching in the  University of California. Click to download.
Influence of oak canopy on forage production
In blue oak woodlands (deciduous woodlands), research shows —
At sites with more than 25% oak cover and more than 20 inches of rain, there was less forage production under the oaks than nearby open areas.
But, on the other hand, at sites with less than 25% oak cover and less than 20 inches of rain, there was higher forage production under oaks than nearby open areas.
In areas with an intermediate amount of oak cover (25-60%), the amount of forage production wasn't consistently higher or lower under oaks than nearby open areas.
Areas under blue oaks will have green grass earlier in the season and will have higher production of grass than nearby open areas in the central and southern part of its range.
Higher production under the blue oak canopy (or areas that were cleared of blue oaks) is because leaf litter decomposes and increases soil fertility. The improved soil fertility also increases forage quality. At sites where blue oaks were cleared, forage production is initially higher than adjacent open areas, but then production declines to that of adjacent areas because there is no longer the input of decomposing leaf litter to increase soil fertility.
In live oak woodlands (evergreen woodlands), research shows —
Typically, sites with more than 25% oak cover had less forage production under oaks than areas cleared of oaks.
However, during drought areas under oaks had more forage production than nearby open areas because of shading helped retain moisture.
Click here for more information about the influence of oak canopy on forage production and oak management guidelines (see pages 326-328).
Oak toxicity in livestock
UC Davis Vet Views offers information about:
What is oak toxicity?
What environmental conditions lead to oak toxicity?
How can it be prevented?
How likely is it that livestock will be poisoned by oaks?
Click here to find out how to treat livestock that have have been affected by oak toxicity. 
Articles on Oak Woodland Products/Range Management/Livestock
Oaks 'n Folks Articles – Summaries of journal articles archived from the IHRMP Newsletter