Oaks 'n' Folks – Volume 17, Issue 1 – February 2001
---
Introduction
Tanoak (Lithocarpus densiflorus), coast live oak (Quercus agrifolia) and black oak (Quercus kelloggii) trees are distributed along 1,500 miles of the California and Oregon coast. In 1995, tanoak trees began dying in large numbers in Marin County, and in 1998 coast live oaks and black oaks began dying in similarly large numbers (Svihra 1999a, 1999b, McPherson et al. 2000). Since then, several other coastal counties in California have been affected by large amounts of mortality among these three species. This epidemic is currently referred to as Sudden Oak Death or SOD (see update this issue). Tree loss due to SOD is alarming for the homeowners, recreationists, naturalists, and natural resource managers that rely on the complex of oak and tanoak woodland for enjoyment and the natural goods and services these ecosystems provide.
A method for monitoring the spread of this epidemic is needed, and the opportunity exists to monitor SOD by enlisting the help of the local communities in affected areas. The California Oak Mortality Task Force has been formed with the aim of bringing together public agencies, non-profit organizations, and private interests to address the issue of elevated levels of oak mortality in California. The monitoring committee of the Task Force has developed a strategy that involves the reporting of elevated levels of oak mortality from many sources, including roadside surveys, aerial surveys, rangers, and open space field personnel. It could also involve YOU. University of California's Center for the Assessment and Monitoring of Forest and Environmental Resources (CAMFER) has developed an interactive website that can be used to collect, display and interact with information about trees affected with SOD in California.
OakMapper website
http://www.oakmapper.org/
Using the "OakMapper" website, you can:
Enter data on a suspect tree or trees. The website includes interactive forms that allow users to identify the tree species under observation (we include a CalFlora tree identification page), describe the symptoms of the affected tree or trees through pictures, enter the location of the tree or group of trees as an x, y coordinate or as a street address, and then submit the report to the OakMapper database. This information will help target areas for follow-up confirmation.
See near real-time updated maps of the distribution of reported oak mortality in California, and confirmed cases of SOD. You can Zoom In and Pan around to see where the epidemic exists in the oak woodlands of California.
Search for individual trees or groups of trees on the map and query the database for information on each tree, including what kind of symptoms exist.
Perform simple queries to find out how many trees that have been confirmed with SOD are in your area, or determine where there are reported cases of oak mortality in your area.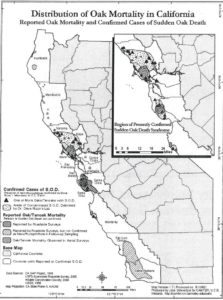 This tool should be used in conjunction with County Cooperative Extension Advisors and County Agricultural Commissioner's offices. We recommend that if you want to report a tree that might have SOD, you should contact your county Cooperative Extension office, or your county Agricultural Commissioner's office, as well as report the tree via the OakMapper site. Information from all three groups is coordinated, but make sure reports go to a local county office. We hope to be able to use the results from the OakMapper to map hot-spot areas in coastal California and to assist in further monitoring efforts.
References:
McPherson, Brice A., Wood, David L., Storer, Andrew J., Svihra, Pavel, Rizzo, David M., Kelly, N. Maggi, Standiford, Richard B. 2000. Oak mortality syndrome: Sudden death of oaks and tanoaks. Tree Notes 26:1-6.
Svihra, P. 1999a. Tanoak and coast live oak under attack. Oaks 'n' Folks 14(2):1.
Svihra, P. 1999b. Sudden death of tanoak, Lithocarpus densiflorus. Pest Alert 1:1-2.
---
Nina Maggi Kelly
prepared and edited by Adina Merenlender and Emily Heaton