Oaks 'n' Folks – Volume 8, Issue 1 – March, 1993
---
With the increased use of rigid tree shelters for oak seedling planting projects, it is worthwhile to take a moment to look at this new protective device from the point of view of our native birds. Four-foot tall plastic protectors in open grassland or in rangeland settings are attractive to birds as perches. In one oak planting study using such seedling protectors, we observed 56 out of 60 of the upright tubes used as temporary perches. There is a real possibility this will cause some mortalities from birds falling into the tubes.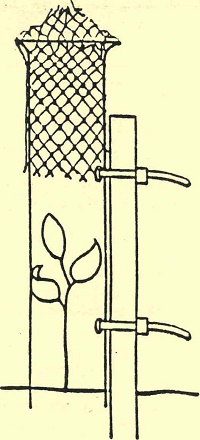 This problem has been recognized by one of the main manufacturers of these tree shelters, and a special plastic mesh protector has been designated to prevent birds from entering the tubes. The plastic mesh is provided free, but has to be put on carefully and main­tained over time (see illustration). Under prolonged field conditions, we have found that browsers, or even the wind, may remove this plastic mesh. On a couple of occasions we have observed birds entangled in the mesh and riding it down into the tube. So how do we prevent such bird mortali­ties?
The most important thing to do 18 to inspect the tree shelters regularly and replace mesh over the opening as needed. In the absence of such maintenance, a simple wire protector can be put in place in addition to the mesh protector. As illustrated below, you only need to make six holes with an awl around the top opening of the tree shelter and string a 30 inch long piece of tie wire through the holes in the pattern indicated. It takes a minute to do this. Birds will not fall through and the seedling will have space to emerge. As the growing seedling fills the opening, danger to perching birds is much reduced.